December 16, 2018
Posted by:

Atton

Category:

Blogs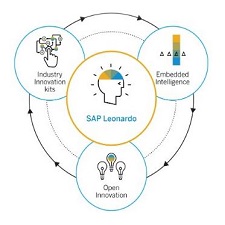 SAP Leonardo is more than you think, and your immediate challenge is to explore and understand the scope of what it can do for your business.
THE FUTURE OF TECHNOLOGY
SAP Leonardo is a digital innovation system, an umbrella term that helps customers access SAP's components and products across emerging technologies, such as Machine Learning, Big Data, Internet of Things (IoT) and Blockchain. It is often associated with SAP Cloud Platform services but it's not limited to this, as it covers anything that fits into modern technologies and includes e.g. predictive capabilities in S/4HANA whether on premise or in the cloud.
IT'S DESIGN THINKING
Leonardo is not just about technology, it is focused on design thinking and about packaging technologies and defining methodologies to address business challenges. Design thinking is a methodology that focuses around creative ideas and solutions to resolve use cases. The premise is that customers don't just need good technology, they need an approach to find out the value of how and what the technology can do for them.
A LEADING PRODUCT IN MARKET
SAP is not alone in their design thinking methodologies. It is a crowded market place with the likes of IBM, Microsoft and leading research universities such as Stanford offering their own innovations. The catch though is that their products often operate in limited way and this is where SAP comes in.
The challenge for SAP is that companies do not often think of SAP as a vendor for Blockchain, IoT and so on when you think of SAP you mainly think of ERPs. But the strength of SAP's brand lies in integration across the SAP portfolio. So if you already have SAP ERP, S/4HANA or other SAP solutions, then SAP Leonardo has the capability and is designed to be integrated.
AN INTEGRATED APPROACH
One of the key benefits of SAP Leonardo is that it allows you to integrate multiple SAP products with emerging technologies. For example, in the SAP Cloud Platform you can create Fiori apps that use IoT services. When integrated into your business processes as an end user you won't necessarily know there is Machine Learning behind the scenes, and you won't see anything different, but you will experience automatic decision making or recommendations.
THE GROWTH IS MACHINE LEARNING
SAP provides Machine Learning technology models at different levels which you yourself can train on without too much expertise. These standard models would currently cover around 80% of your needs. It's possible to train your own models but you'll need deeper expertise and you'll probably need the services of a data scientist in other words you need to know what you're doing.
Applications in SAP S/4HANA, such as cash reconciliation and invoicing, already incorporate Machine Learning as part of SAP Leonardo and the number of these Machine Learning scenarios that will become part of S/4HANA is fast growing. By the end of 2018, there will be over 40 different use cases covering the main application areas within S/4HANA.
EMBRACING INTERNET OF THINGS
SAP Leonardo is bringing new technologies and services together to help businesses power their digital transformation. In supply chain and logistics, for example, IoT processes across SAP S/4HANA, ECC and Hybris permit you to monitor goods as well as assets in transit and survey the lifecycle of mass market products, maximizing the value of your fleet and IoT enabled business assets. IoT enabled processes in SAP solutions enable you to maximize the value of products, including raw materials, semi-finished or finished products, combine real-time sensor data with business data from SAP and non-SAP systems and provide insight into areas such as product inventory and replenishment, product consumption and utilization and consumer interactions.
RESOLVING CHALLENGES FOR A FUTURE READY
The future is exciting, integration is the way forward and Leonardo and S/4HANA is where SAP is heavily focusing its R&D investment.
At Atton, we're here to help business people understand how emerging technologies can help to solve their business challenges and enable them on their digital transformation journey. Our expert consultants are experienced in SAP Leonardo and can demonstrate how the power of SAP can help you to execute your business strategy.
Whether that's through a workshop, consultation or over the phone, contact us to see how you can accelerate your business with SAP Leonardo.